Saturday June, 9 in Las Vegas, Nevada, Timothy Bradley challenged Manny Pacquiao for Pacquiao's WBO welterweight title trying to shock the world, and did he ever. During the whole fight we saw something we have only seen when Pacquiao has fought Erik Morales and Juan Manuel Marquez, we saw a Pacquiao opponent that was actually trying to win rather than just surviving. However, before the fight started, Manny Pacquiao seemed to want to show the world that he's bigger than boxing, to me that's what it looked like, Manny decided to make everybody wait for the fight because he wanted to see a basketball game, are you kidding me? A basketball game!
You have a championship fight on hand, an opponent ready to get in the ring and trade punches with you, and you want to see a basketball game, wow! And then to make matters worst, he decides to leave his dressing room, supposedly to stretch his calves on a treadmill, why didn't he notify anybody of what he was going to do? Why wasn't the treadmill in his dressing room? And why didn't he tell the cameras to show him working on that treadmill so that there wouldn't be any questions of, "where is Manny?" This is me as a boxing fan, "This is ridiculous, I'm a boxing fan, I paid $64.95 plus taxes for this PPV, if I wanted to see the game I wouldn't have bought the fight, I paid to see you fight, why are you making me wait for a basketball game?!" Anyway, Pacquiao finally decided to go back to his dressing room, put on his gloves and do his praying and finally come out to the ring.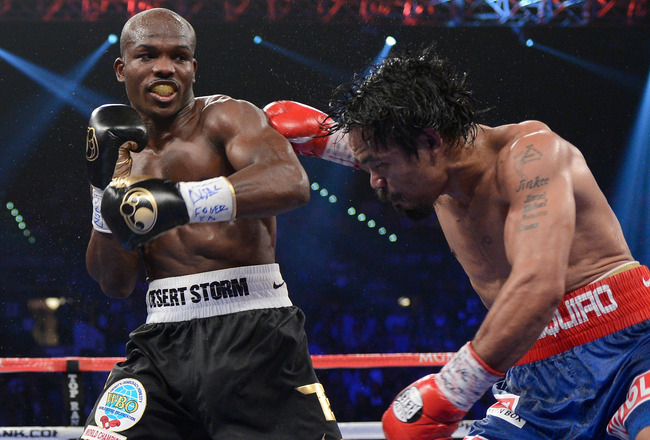 When the fight finally started, we saw Timothy Bradley fight his heart out for 12 rounds, he always tried his best, never backed down from  Pacquiao, while we saw a Manny Pacquiao sit back for two thirds of almost every round before turning it on in the last minute of each of those rounds. Even though Bradley was trying his best, his punching power is just not there to hurt a tough chinned fighter like Pacquiao, while Pacquiao's power is well known to hurt almost anybody, and he did hurt Bradley several times during the fight. But apparently didn't hurt him more than Bradley hurt himself when he twisted his ankle in the early rounds, which eventually resulted to be fractured when the x-rays were taken.
To those people who say that this was total domination by Pacquiao, I just want to tell you that you're wrong, although I had him ahead on my scorecard 116-113 (I scored the first round even), it wasn't total domination, when you have an opponent coming at you the whole fight throwing for over 800 punches in the contest it's not total domination, Bradley actually had his moments in the fight. What I saw in this fight was Timothy Bradley attacking Pacquiao, missing wildly on most of his shots, but putting pressure on, and I saw Pacquiao landing cleaner and more effective punches, that's why I had him winning, similar to when Marquez fought Pacquiao for the third time, I saw Pacquiao attacking Marquez and missing wildly with most of his shots while Marquez was landing cleaner and more effective blows, that's why I had Marquez winning 117-113 (I scored two even rounds in that fight). That time Marquez was robbed of a win because of fighting smart and picking his punches, this time it was the same, the difference is that this time it happened to Manny Pacquiao and that's making people go nuts.
So yes, I thought Manny had done enough to win, but it was a good fight, Bradley wa
s no walk in the park and he fought very hard all the way, and he didn't care to get knocked out because of his aggression, he went for it all, so no, I'm not disgusted by the fact that he was given the decision, because it was a very good, hard fought bout. That's what happened in Vegas inside the MGM Grand Garden Arena, but what really took the cake was what happened after the fight. My Twitter timeline blew up obviously with people screaming robbery, but what really gets to me is when guys who don't really know anything about boxing say that boxing will die because of this decision.That's a really dumb statement, and I was truly surprised of how many times I saw it during the weekend, to all those casual fans that only watch boxing when Pacquiao or Mayweather fight, this is for you: Controversial decisions happen all the time in boxing, this is nothing new, of course you would know that if you would actually see more than two fighters' careers, just recently we saw Gabriel Campillo getting robbed atrociously against Tavoris Cloud in Corpus Christi, Texas, that was a much worse decision than this one, does any of you casual fans even know who these guys are? And how about Erislandy Lara getting robbed against Paul Williams, now that was a total dominating performance by Lara, and he was robbed, as a matter of fact it was so bad that the judges that scored that fight were suspended.
Of course Juan Manuel Marquez getting robbed at least twice against Manny should at least ring a bell. Another fight that comes to mind, to me the worst robbery I've seen in my life, Jose Armando Santa Cruz getting robbed against Joel Casamayor, that was an outrageous decision that robbed Santa Cruz of a world title. Again this is directed to casual fans who say boxing will die because of this decision, do you remember Lennox Lewis getting robbed against Evander Holyfield? Of course you don't, how about Pernell Whitaker getting robbed at least three times in his career, against Jose Luis Ramirez, Julio Cesar Chavez, and Oscar De La Hoya, who by the way was also awarded a gift decision against Felix Sturm, who has also been given some questionable favorable decisions in two of his last three fights, against Mathew Macklin and Martin Murray. Many people believe that Rubin "The Hurricane" Carter was robbed against Joey Giardello, controversial decisions date back a long time. And let me ask you, have people stopped watching because of that? The true hardcore boxing fans have always watched, still watch, and will continue to watch. All these youngsters that say UFC will take over because boxing will die because of this decision really make me laugh, UFC is very popular among young people, I'll admit to that, but they're not hardcore fans, most of them won't pay for a PPV to watch the fight, these young kids will fill up bars to watch the fight, get drunk before the fight even starts and not pay full attention to what's happening in that octagon. True boxing fans will not abandon the sport for controversial decisions because we appreciate the effort given by the fighters that do their best to entertain us, in the end, if the fighters give us a good show, it's all that matters.
In other words, a fighter I'm definitely looking forward to watch again is Guillermo Rigondeux, this guy is something special, I have never seen a fighter rehearse his punches before throwing them, and landing them as flush as he does, and he's got some serious punching power as he proved in his knockout victory over Teon Kennedy. Journey man Randall Bailey got himself a world title by knocking out Michael Jones in the 11th round in a fight in which he was being dominated, now hopefully he gives a shot to the winner of Kell Brook and Carson Jones. Jorge Arce kind of disappointed me when he decided not to continue fighting after he was accidentally fouled in the second round, but because of the great wars that he has given us all these years I really can't complain about his decision.
Overall I think it was a below average card set by Top Rank, but the main event and all the drama that came after the fight made it all worth it. Congratulations to Timothy Bradley for being the new WBO welterweight world champion, and if they decide to do it again, I like all the true boxing fans, will be watching.